This PSX Lilac stamp is one of my all time favourites, I could easily use it almost all of the time. However, this time I've rung in the changes with colour scheme. Instead of the obvious lilac and lavender tones (and I do love those colours too), I've gone for ivory, grey and crystal. The card also features a number of different techniques, including:
Paper piecing ● Decoupage ● Distressing ● Embossing ● Digital Die Cutting ● Manual Die Cutting ● Glittering ● Flower embellishing ● Accenting ● and (of course) Hat Pin Making!
Card Recipe:
Colouring Mediums: Memento Ink Pad London Fog, Promarker Pens
Paper & Card: K&Company Elegance Shimmer, Stardream Opal
Tools: Spellbinders, Silhouette Cameo, Grand Calibur, Creative Expressions Embossing Folder
Embellishments: Berisford satin picot ribbon 10mm, hand-made beaded Hat Pins, crystals, pearls, mulberry flowers
To make this card, using my Silhouette Cameo, I cut the card base and butterfly base from stardream cardstocks. I also cut the flourish background, flourish border and butterfly on K&Company Elegance Shimmer.
I then embossed an offcut of stardream card through my Grand Calibur using my new Tied Together embossing folder. Once embossed, this offcut was paper-pieced together with an offcut of coordinating K&Company Elegance Shimmer patterned paper and the join was covered by a strip of picot edge satin ribbon, then die-cut with Spellbinders Labels 1.
I stamped my image with Momento London Fog and this was also cut out with a Labels 1 die. I have a really great tip for cutting smaller filigree shapes on the Cameo. I shrink the whole shape to the size that I want, then ungroup the image and use the outline tool to increase the size of the smaller filigree elements so that they enlarge and cut cleanly.
To accent the card, I inked edges with promarker pens, which I also used on the butterfly filigree layer and the mulberry flower edges and stamen. The stamped image, flourish border and filigree were flittered with glue pen and crystal glitter. I accented various pieces with flat-back pearls and rhinestones.
Hope you like this; do leave a comment if this has pleased you.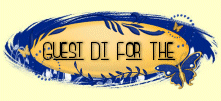 Pin It Now!